Tissue Regeneration Therapy
Tissue regeneration therapy powered by TRT OrthoGold 100 is an exciting, breakthrough treatment option in the field of regenerative medicine. It is an advanced, effective, non-invasive and safe way to treat painful musculoskeletal conditions, degenerative conditions and chronic pain. All without needles, anesthesia, medicine or expensive hospitalization.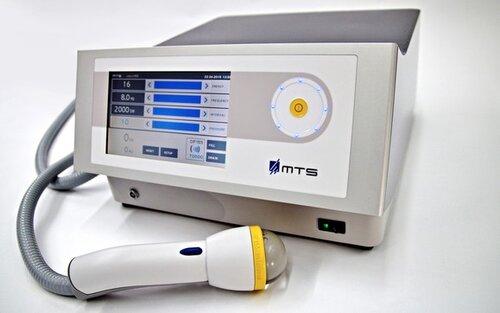 Rigorously tested in Europe (labeled MTS Sparkwave in Europe) over the past decade, tissue regeneration therapy has made its way to the United States and is changing lives for the better. Previously only available in Chicago, Infinite Health is proud to be the first and only location in Santa Fe to offer tissue regeneration therapy.
Tissue regeneration therapy is the most advanced, highly effective, non-invasive treatments cleared by the FDA to treat degenerative conditions and chronic pain. Tissue regeneration therapy delivers the most effective Extracorporeal Shock Wave Therapy ("ESWT") available. During tissue regeneration therapy or TRT, high energy sound waves are applied to painful and injured areas of the body to dramatically stimulate healing and regeneration. It works by helping to stimulate and improve your body's own healing capability by enhancing blood circulation and stem cell activity to regenerate damaged tissue. Beneficial effects are often experienced in only one or two treatments and there is no downtime! This non-surgical treatment can eliminate pain, restore mobility and significantly improve a person's quality of life. It is extremely effective as a stand alone treatment or in addition to our chiropractic or metabolix programs.
Tissue regeneration therapy was featured on the show The Doctors! Check out the video below.
Benefits
Non-invasive

No anesthesia required

No risk of infection

No scarring

No downtime

High patient satisfaction

Cost effective
Conditions Treated
Faster, easier healing

Knee Pain

Heel Pain

Foot Pain

Ankle Pain

Achilles Tendon Injuries

Plantar Fasciitis

Hamstring Pain
.
Shoulder Pain

Tennis and Golfer's Elbow

Back and Neck Pain

Elbow, Wrist and Hand Pain

Sports Injuries

Arthritis

TMJ

Muscle Pain

Overuse Injuries
What is Tissue Regeneration Therapy?
It is a new, highly effective treatment whereby high-energy sound waves are applied to injured, degenerated and/or painful areas of the body to dramatically reduce pain and increase mobility and function. This treatment accelerates the healing process in the body by stimulating the metabolism and enhancing blood circulation and cellular repair to regenerate damaged tissue. The healing energy wave created by shockwave therapy penetrates tissues and stimulates stem cells and growth factors in the body that are responsible for muscle and connective tissue healing.
How are Treatments Performed?
Acoustic Wave or "True" Shock Wave Treatment (ESWT) is noninvasive and painless. Gel is applied to the treatment area and acoustic waves are then released over the treatment area.
How Many Treatments Are Needed?
The number of treatments needed depends on the condition that is being treated. On average only 8-12 treatments are typically needed.
What Types of Results Are Expected?
Beneficial effects are often experienced after only one or two treatments. Many patients report immediate pain relief after treatment. The technology has a high success rate per clinical studies. Patients treated report being pain free and/or have significant reduction in pain. ESWT can eliminate pain, restore mobility and improve a person's quality of life. True acoustic wave therapy can also dramatically increase the results of other regenerative treatments.
What are the Possible Side Effects?
Virtually none. Patients can return to work immediately after treatment and there is typically no downtime.
Our Patients Have Experienced Great Results With…
• Headache / Migraines
• Back and Neck Pain
• Scoliosis
• Postural Deformities
• Low Metabolism
• Fatigue
• Acid Reflux / GERD
• Frozen Shoulder
• High Blood Pressure
• Plantar Fasciitis
• Allergies
• Asthma
• Shoulder Pain
• Disc Herniation
• Trouble Sleeping
Infinite Health Center is far more than I expected! The amazing customer service, knowledgeable Doctors, and overall positive energy of the center makes it easy to keep appointments and get motivated to live a healthier life. 11/10 recommend!
Rhonda Montoya
I wholeheartedly recommend Infinite. The staff is friendly, accommodating and most of all, caring. The doctors are superb and treat you like family. They address you by name and take time to hear your concerns or reservations. I look forward to the continued progress I am making. Thank you, Infinite!
Emily Montoya
Friendly, knowledgeable, personal, and accommodating! Really enjoy my experience with care and staff as well as reduced headaches! Having a family of 6 and living a distance has not been an issues! If you are serious about your health and are looking for an overall solution, not just temporary treatment, this is the place to go!
Jessica Casados
Infinite Health Center
2860 Cerrillos Road
Suite C-2
Santa Fe, NM 87507
Monday
8:45–11:00AM, 3:00PM–6:00PM
Tuesday
11:00AM – 1:00PM
Wednesday
8:45–11:00AM, 3:00PM–6:00PM
Thursday
3:00PM-6:00PM
Friday
8:45AM-11:00AM
Closed Saturday and Sunday