Infinite Health Center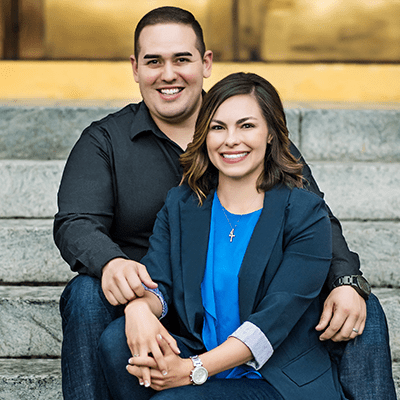 Drs. Carlos and Elena Sandoval
It has been our dream and mission to come back to the great state of New Mexico and establish Infinite Health Center where we both grew up. A healthy and vibrant family and community is at the heart of why we both became chiropractors and wellness advocates.
Utilizing the latest in spinal rehabilitation and postural correction, we firmly believe that the health of the nervous system is directly proportional to one's overall health and wellbeing. Our philosophy and that of the founders of chiropractic is simple… the power that made the body, heals the body.
We are passionate about helping facilitate a healthy nervous system, allowing the brain to communicate uninterrupted with the body… including the limbs, and vital organs. Once nerve energy can flow uninterrupted, the body will start the healing process, and function the way it was intended.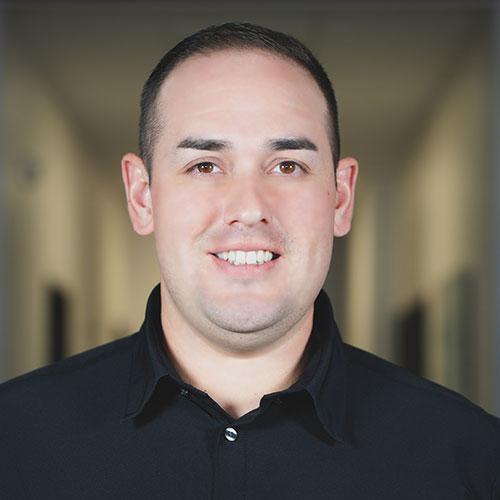 Dr. Carlos Sandoval
Owner/Founder, Clinical Director
Dr. Carlos was born in Rio Rancho New Mexico and raised in Las Vegas, New Mexico. From an early age, Dr. Carlos has been fascinated with the human body, sports performance, and health. Being active and playing sports has always been a major part of his life.
He graduated from Robertson High School where he participated in numerous sports and was a part of multiple district and state champion teams. His love for the human body and performance carried over to undergrad where he attended New Mexico Highlands University and graduated with a B.A. in Health Promotion and Wellness and a B.A. in Human Performance and Sport.
Dr. Carlos had always experienced the normal bumps, bruises and aches and pains from all his years of sports and working out. It wasn't until a major accident while working out that he really experienced debilitating pain. A severe low back injury put a stop not only on working out but also on his life. At the time, not knowing about chiropractic, he went to his medical doctor for help with the pain. Like many people, he was placed on opioids to help manage the pain.
Over a month went by managing the pain with opioids and it wasn't until a concerned friend who knew of the dangers of prolonged opioid use and addiction introduced him to chiropractic. After his first few adjustments, his whole world changed. He was able to get off of his pain medication and return to his normal active life. As he continued with care, he noticed other areas of his health started to improve such as diminished allergies, better digestion, and more natural energy. This experience inspired Dr. Carlos to pursue a career in chiropractic.
He went on to graduate from Life Chiropractic College West where he received his doctorates. After graduation, Dr. Carlos went on to work in one of the largest spinal correction offices in San Jose CA, where he gained more clinical knowledge on chiropractic and spinal correction. After a year of learning and training in San Jose, Drs. Carlos and Elena decided it was time to come back to their home state and serve the people of Santa Fe and surrounding areas.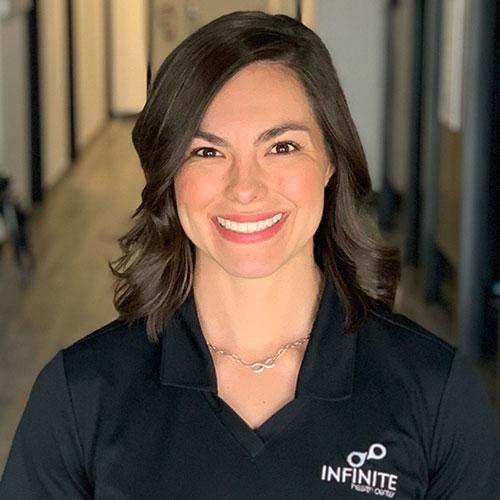 Dr. Elena Sandoval
Owner/Founder, Clinical Director
Dr. Elena was born and raised in Las Vegas New Mexico. She attended West Las Vegas High School where she participated in volleyball and track and field. She was passionate and excelled in track and field but slowly began to realize that she wasn't living up to her full potential.
She was having trouble breathing while performing and recovering after runs. During her senior year, she went to her doctor to see why she was having trouble breathing. She was diagnosed with athletic induced asthma and quickly realized that in order to perform at her full potential she had to be dependent on this inhaler. The feeling of being reliant on the inhaler made her feel scared and lost confidence in her body.
She continued on living dependent on this inhaler and scared to push her body the way she knew she could. Five years went by living that way and it wasn't until she went with Dr. Carlos to the local chiropractor to see if chiropractic could help with his low back injury.
After the doctor taught them about the relationship between the spine and the nervous system, Dr. Elena decided to get under chiropractic care as well to see if this could help her overall health, not even considering her asthma. Sure enough, chiropractic improved her overall health! One day after finishing a run she noticed how good she felt and how much her time had improved and it was at that moment she realized she did it all without her inhaler.
Thinking about it a little more she realized that she had not used her inhaler in over 6 months and did not even know where it was. From that moment she realized how much her health had improved in other areas as well and she knew chiropractic was the reason for it. This inspired Dr. Elena to pursue a career chiropractic. She graduated from Life Chiropractic College West where she received clinical honors.
After graduation, she went on to work in one of the top chiropractic offices in California that specializes in nutrition and detoxification. This helped expand not only her clinical knowledge in chiropractic but also in nutrition and detoxification. Now in Santa Fe, Dr. Elena is on a mission to make sure that the people of Santa Fe are living up to their full health potential and confident in their own bodies.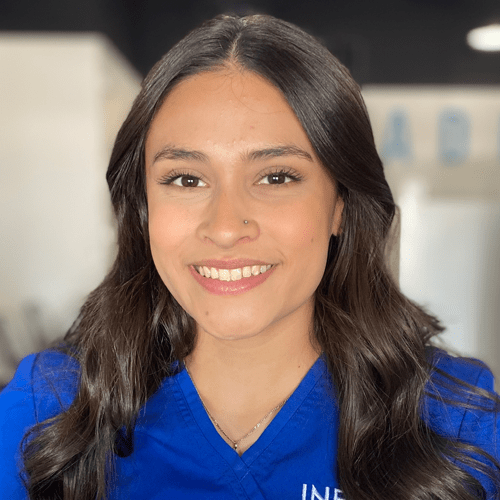 Deanza Booker
Patient Coordinator
Our Patients Have Experienced Great Results With…
• Headache / Migraines
• Back and Neck Pain
• Scoliosis
• Postural Deformities
• Low Metabolism
• Fatigue
• Acid Reflux / GERD
• Frozen Shoulder
• High Blood Pressure
• Plantar Fasciitis
• Allergies
• Asthma
• Shoulder Pain
• Disc Herniation
• Trouble Sleeping
Infinite Health Center is far more than I expected! The amazing customer service, knowledgeable Doctors, and overall positive energy of the center makes it easy to keep appointments and get motivated to live a healthier life. 11/10 recommend!
Rhonda Montoya
I wholeheartedly recommend Infinite. The staff is friendly, accommodating and most of all, caring. The doctors are superb and treat you like family. They address you by name and take time to hear your concerns or reservations. I look forward to the continued progress I am making. Thank you, Infinite!
Emily Montoya
Friendly, knowledgeable, personal, and accommodating! Really enjoy my experience with care and staff as well as reduced headaches! Having a family of 6 and living a distance has not been an issues! If you are serious about your health and are looking for an overall solution, not just temporary treatment, this is the place to go!
Jessica Casados
Infinite Health Center
2860 Cerrillos Road
Suite C-2
Santa Fe, NM 87507
Monday
8:45–11:00AM, 3:00PM–6:00PM
Tuesday
11:00AM – 1:00PM
Wednesday
8:45–11:00AM, 3:00PM–6:00PM
Thursday
3:00PM-6:00PM
Friday
8:45AM-11:00AM
Closed Saturday and Sunday